Global Medical and Dental Brigades: Dr. Rohan and Ellen's Mission trip to Honduras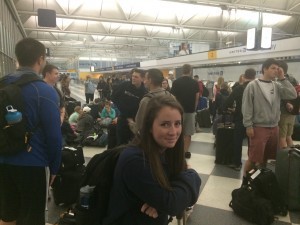 Day One: Dr. Rohan and Ellen's Mission trip to Honduras
Gathering of 56 University of Illinois undergraduate health sciences students at O'Hare Airport at 5am to begin travel to Honduras with a stop in Houston, Texas. Met with my new buddy for the week, Dr. Jim McShane a few weeks before, today, to discuss how the week would go.  Dr. McShane is very engaging so, no shortage of conversation between us all week. He was "the MAN" with the music in the dental clinic for the week.
College students are not very awake this early in the morning,so, not much conversation going on.  Supplies we are taking including instruments, toothbrushes and paste, and disposables are divided up between all of the suitcases. Boarding processes and connecting in Houston go as planned.
Land in Tegucigalpa, Honduras, go through customs and meet with the Honduran leaders of the Brigades.  They pack up our baggage onto trucks and load us all into buses and off to our compound for the remainder of the day. The trip through the outskirts of the city gave us a look at life in Honduras.  There was a mixture of middle class and poor people at work and the streets were dotted with open air shops and people mingling about.
We drove the equivalent of about 40 miles out into rural Honduras The compound where we called home for the week consisted of a few modest buildings that must have been a hospital at one time and a cafeteria. The sleeping  accommodations are dorm like and the climate is hot and dry.  I shared a room with three other doctors and we did not have air conditioning.  I am glad I brought my small fan. The air flow it produced, plus my own pool of sweat, helped keep me cool while sleeping.  We had meetings to plan the week and the students set up our dental "goodie bags" consisting of  brushes, floss and tooth paste.in the hallways of our "hotel"
The food was good today.  American food with a Honduran "flare" The Honduran people are warm and welcoming and we look forward to setting up our clinics tomorrow.
Check out our blog for the remainder of the trip in two weeks!!